The art publication Big Art Energy was commissioned by the Project Arts Centre as part of Future Forecast—a series of events and artistic interventions forming part of a speculative voyage towards the future.

The publication was edited by Louise Bruton & Cian O'Brien, with contributions from; photographer Vanessa Ifediora, writer Soula Emmanuel, artist Gary Farrelly and party makers Club Comfort. Big Art Energy showcases these artists' reactions to the pandemic, response to lockdown and forecasts of the future of their respective industry or field of art.

We designed a package to be sent out by post with the limited edition publication and our contribution the fine art print 'Can You See Me?', a happy accident sprung from a series of technological failures. A beautiful blur of a screenshot from FaceTime during a failing internet connection became an intriguing portrait of ourselves and our new way of working.

Initially inspired by journals, especially Aisling copy books, the book would act as diary or log book to record and express our inner thoughts and feelings during lockdown. Taking from those visual cues, the cover of the book is plain, quiet and still with the inside being akin the inside of your head and how you might be feeling in the midst of the pandemic—cluttered, maybe a little bit claustrophobic and anxious but colourful and beautiful and overall, hopeful.


We employed a design process inspired by a common concept in architecture and city planning referred to as desire lines; "paths & tracks made over time by the wishes & feet of walkers, especially those paths that run contrary to design or planning"; or "free-will ways." While first using a strict grid and typographic rules to create a foundation we then allowed our human instinct to take over and Big Art Energy to fill-in, spill over, doodle, colour-in, make notes in the margins and practice our autograph over and over, just like you would in a journal.

These interventions gave each section for the contributing artists a distinct look and feel specific to the content, yet, there remains a unity to the publication thanks to the rigour of the typography and editorial layout.

An extensive web, social media and print campaign gave BAE massive traction. As well as providing Project Arts Centre with a social media strategy and content, we created dynamic and personalised social media animations for all the contributing artists to share on their own social media platforms, while also providing all the necessary information for people interested in ordering the package. A billboard and posters outside of the Project put a smile on the faces of a few the passers-by in Temple Bar.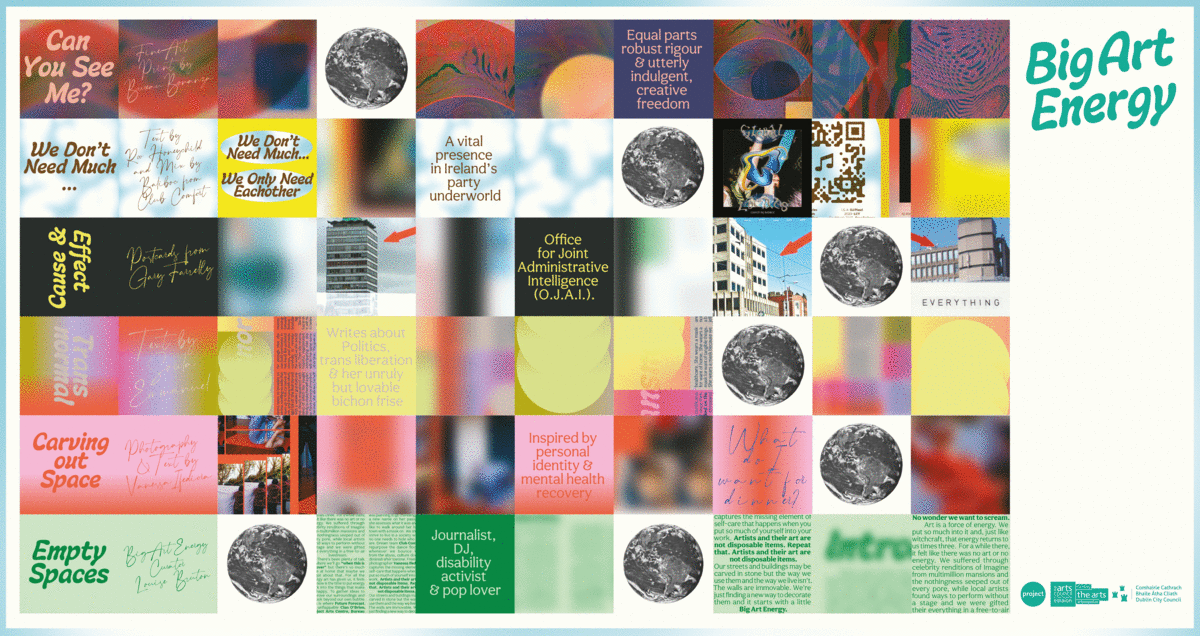 ---